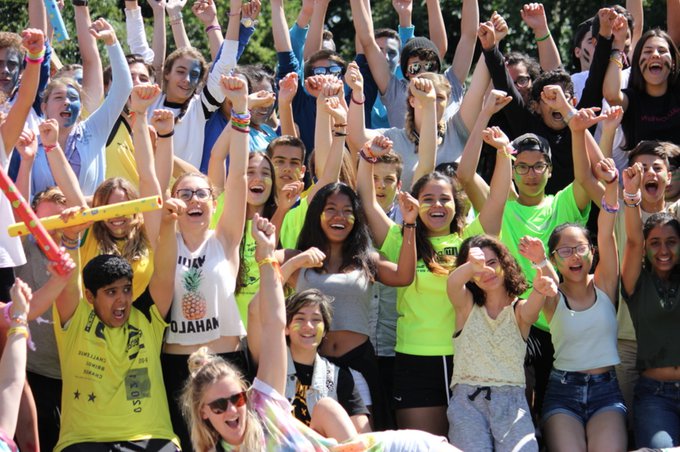 Summer camp in English
For many advanced English children living outside the UK, a new stage of immersion in English culture and language is a trip to a summer camp, where local guys, that is, native Englishmen, go. This can be especially helpful for those planning to start studying at an English boarding school in the foreseeable future. A visit to a language camp or English language courses is certainly a useful and exciting event, but after two or three vacations spent there, active and talented children strongly demand new adventures for themselves! Active recreation by the lake, teenage romance, fun gatherings around the fire ... Almost all of us have a similar idea of ​​summer camps for children and youth from books and films. But the tradition of summer camps for the smallest in England is as strong as a university or school. Changeable English weather, rather short school holidays and long parental leave have all contributed to the reluctance of adults to send their child on vacation unaccompanied by parents or relatives. But everything is changing, and England is no exception - today the sphere of summer recreation for children is actively developing. The best camps fill up quickly and applications must be completed well in advance of the season.
Types of vacation programs
As stated earlier, British education is considered one of the best in the world. Pupils and students have the opportunity to choose the programs in which they will study during the period of study. The same can be done by the guys who have come for the holidays. A language camp in England for teenagers allows you to study according to the classical linguistic program and have a great rest. The course is designed for those children who want to improve their language skills, but at the same time do not spend all their free time reading books. The intensive language program is designed for those who want to improve their knowledge in the shortest possible time. More than 30 hours are allocated for foreign language classes every week. Evening rest and entertainment on weekends are included in the program. English and Sports is another program that allows young athletes to improve their language skills without interrupting the training process. In England, camps are very popular in which swimming, football, sports dancing and equestrian sports are held. English and Advanced Studies is a program focused on preparing for the university entrance exams. You can study several disciplines to choose from, such as physics and mathematics or biology and chemistry. Family Vacation is a program that allows you to come to Britain not only for your child, but also for your parents. English classes are held in different groups, but accommodation and excursions are shared.
1. Camp Kernow
Camp Kernow Park Farm, Truro
Ideal for future ecologists and ecologists.
This is the only British summer camp of its kind that does not use classic electricity. The camp uses solar and biomass energy, children live in tents, yurts and wigwams, learn to independently obtain and prepare food. The camp is spread over 280 acres of Cornwall's most beautiful forests.
Activities range from rock climbing training to kayaking, orienteering, walks in the bats' habitat, kayaking and archery. There is an opportunity to try traditional crafts such as woodworking and forging with a local blacksmith.
The gathering of young holidaymakers usually takes place in London, but many parents personally take their children to the camp, and then go to the eco-camp for adults - the luxury Scarlet hotel on the Atlantic coast.
Suitable for children from 7 to 15 years old; 5 - day accommodation - 420 pounds or 6 - day camp - 510 pounds.
2. PGL Surrey
Marchants Hill Tilford Road, Hindhead.
For children with multidirectional hobbies.
PGL is short for Lost Parents. One of the most popular classic weekly multidisciplinary camps. Here, the young man will experience all the delights of life outside the parental home: an exciting combination of dancing, photography, sports, quad biking and much more. Twelve centers in the UK including Marchants Hill in Surra. There are programs for three, four and seven nights.
Suitable for children aged 7 to 17; 7 nights from £ 469.
3. External Tied Trust
Aberdowie Gwynedd, Surrey.
Focused on travel lovers.
The locations chosen for the adventure hikes are so beautiful that even parents will envy. Rest can be called truly adventurous. There are options for weekly scenic hikes and 19-day hikes along the most stunning trails. During the trip, your little "Fedya Konyukhov" will spend the day hiking through the amazing, unexplored regions of Wales and Scotland, and a night under the stars by the fire with interesting companions and new friends.
Suitable for children between the ages of 11 and 19 (depending on age, hiking of varying intensity); prices range from £ 549 for a weekly camp to £ 1,699 for a 19 day trip.