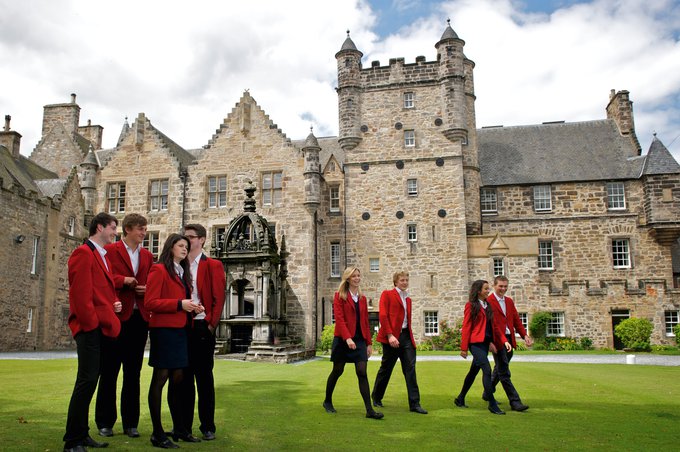 The secondary education system in the UK
After Primary schools english children study in Secondary schools between the ages of 11 and 15-16. After completing the curriculum, they take the mandatory final exams. This is the "General Certificate of Secondary Education" - an academic qualification issued for students between the ages of 14 and 16 to take exams. Those planning to pursue higher education go to high school, which takes the 6th grade program. It ends with the passing of one of the exams: A-level, International Baccalaureate, BTEC or Cambridge Pre-U. Based on their results, students can apply to all universities in the UK, America and Europe.
English private schools
Secondary education in England is obtained in public and private schools. The oldest private boarding schools are known as the highest quality and most prestigious educational institutions. Children in them study more compulsory subjects and foreign languages, go in for sports and creativity - music, theater, visual arts, etc.
For this, hobby groups were opened in schools, the number of which can reach 60-70. Each such club is provided with everything necessary for classes, and in terms of equipment it can surpass state higher educational institutions. On the territory of the boarding houses there are libraries, theaters, concert halls, sports grounds, swimming pools, scientific laboratories, music and art studios.
Private schools are conditionally divided
By gender in male, female and joint schools
By age: full cycle educational institutions (2-18 years old), preschool education (2-7 years old), junior (7-13 years old), secondary (13-16 years old), secondary schools (16-18 years old) and combined schools cycle (13-18 years old)
By the form of education: day schools and boarding schools.
Boarding houses are of full type, weekly (children go home on weekends) and flexible (parents choose the days of the child's stay in the boarding house)
The most famous private schools in England
Eton College 
Type: private school for boys
Form of study: boarding house
Age: 13-18 years old
Number of students: 1300
Accommodation: Eaton rules require all college students to reside on campus. The newcomer is accommodated in one of 50 houses in which he will live until graduation. Each etonite receives a separate room. Half of the houses have a cafeteria and a separate chef; the other half of the students eat in the central dining room.
Tuition fees: £ 12,910 per semester
Notable alumni of Eton College:
19 British Prime Ministers
princes william and harry
writers Aldous Huxley, George Orwell, Ian Fleming
politician and filmmaker Mark Fisher
Rugby School 
Type: independent coeducational school
Form of study: full-time education and boarding school
Age: 13-18 years old
Number of students: 800-830
Accommodation: there are 16 residences on the school grounds. All houses are different from each other inside and outside, they have their own history. Each residence has a dining room, so students have breakfast, lunch and dinner at their boarding houses. Here a separate house is perceived as a separate family. Schoolchildren have a motto: "We play rugby for our school, but we die for our home."
Tuition fees:
Full-time education - £ 7.268 per semester
Training in a boarding house - 11 584 pounds sterling
Notable rugby school alumni
rugby inventor William Ellis
British Prime Minister Neville Chamberlain
Artificial Intelligence Scientist Professor Donald Michie
actor Robert Hardy
Wycombe Abbey School 
Type: independent school for girls
Form of study: full-time education and boarding school
Age: 11-18 years old
Number of female students: 540
Accommodation: there are 11 houses in the abbey. Each house has its own name, history and architectural style. Girls who enter school at the age of 11 spend a year in a nursing home and then move to nursing homes. Residences for girls 12-16 years old are mixed, students of different ages are specially placed in rooms so that they learn respect and care, obedience and responsibility.
In the last year of their studies, the girls move to a separate house of Clarence, where they calmly prepare for admission to the university. Pensions, located far from the main educational building, have their own dining room, all other residents eat in the common dining room.
The cost
Full-time education - £ 9,450 per semester
Boarding Tuition - £ 12,600
Notable disciples of Wycombe Abbey
actress Natalie Simpson
Paralympic participant Nikki Emerson
Rohana Heaton engineer
sportswoman Francesca Zino
and many others.
How to enroll in a private school in England?
All private secondary schools adhere to an individual education system. The conditions for admission are also very different, they need to be clarified separately for each school. It is important to take into account that the more prestigious the educational institution, the earlier documents must be submitted, sometimes after 1.5-2 years.
General requirements for admission to private secondary educational institutions
knowledge of English
an extract from grades and subjects passed over the past few years
the results of passing the entrance exams to a particular school.