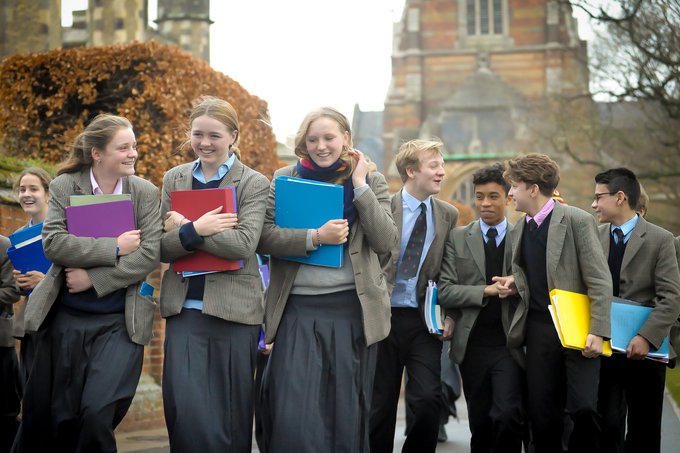 The UK offers a huge number of schools or language schools that annually collect students from all over the world. Much depends on the right choice of an educational institution - from what knowledge base your child can get, and ending with what kind of communication relationships he can build.
In England, career guidance begins in high school. Schools have hobby clubs and hobby groups that help students understand what they like. Children try themselves in sports, arts, robotics, public speaking, the latest business technologies and other fields. University representatives regularly visit schools and talk about popular careers and admission requirements. Thus, the student understands how to study and how to prepare.
At the age of 13-16, teenagers see moving not as separation from their family, but as an adventure and an opportunity to be independent. This is the most popular age to start studying abroad.
In English schools, children learn to apply new knowledge in practice: make decisions on their own, defend their point of view, work in a team and achieve their goals. The applied nature of education is a feature of foreign schools. This approach is fundamentally different from foreign, where the system is less flexible and based on theoretical training.
The English high school is built on one of two university preparation programs: A-Level or IB (International Baccalaureate). 
In this article it brings you a list of the best continuing education schools after grade 9 and with the best value for money. Here you will see the top of the most popular schools, ideal for foreigners. 
The NMSC Warwick National College of Mathematics and Science is an elite institution for students of outstanding excellence.
Cost: from £ 15,300 per semester
Programs: A-Level, summer courses with a scientific bias
Strengths: technical subjects
The advantages of the school: a unique program of intellectual, physical and creative development, which will be an excellent preparation for the best universities in the UK.
Chelsea Independent College
Cost: from £ 48,350 per year
Programs: GCSE, A-Level
Strengths: technical subjects
The advantages of the school: close cooperation with British universities, more than half of the students are British, strong preparatory programs.
Wycliffe College
Rating: entered the TOP-100 according to the results of level A
Cost: from £ 12,340 per semester
Programs: GCSE, A-Level, preparatory courses, BTEC
Strengths: Art Curriculum
School advantages: loyalty to foreign students, lack of selectivity.
To enroll in private schools in England, you often need to go through a competitive selection, and everything is taken into account: school performance, success in sports, creativity and personal qualities. But none of this will matter if the student does not speak English. Each institution sets its own language requirements: IELTS / TOEFL language tests, school entrance exams or interviews. Whatever the school's requirements, the student must confidently master the communication and academic skills necessary to study in an English-speaking environment.
Despite the fact that GCSE and A-Level programs are most suitable for international students is rather difficult to prepare for studies. Therefore, many educational institutions offer special preparatory programs, after which children are guaranteed to successfully adapt and enter the best educational institutions in England.
Studying at a private school in England is becoming a serious investment in the future of the child, and many parents ask themselves the question: "Is the game worth the candle?" According to statistical studies, parents who send their children to schools in the UK have nothing to fear - according to statistics, graduates of private schools:
25% prime ministers
70% of representatives of the judiciary
68% of the military in leadership positions
60% of healthcare workers
55% of journalists
50% politicians
38% of businessmen.
The unemployment rate among private students has historically been very low, which means that education received in the UK has remained relevant for many years.