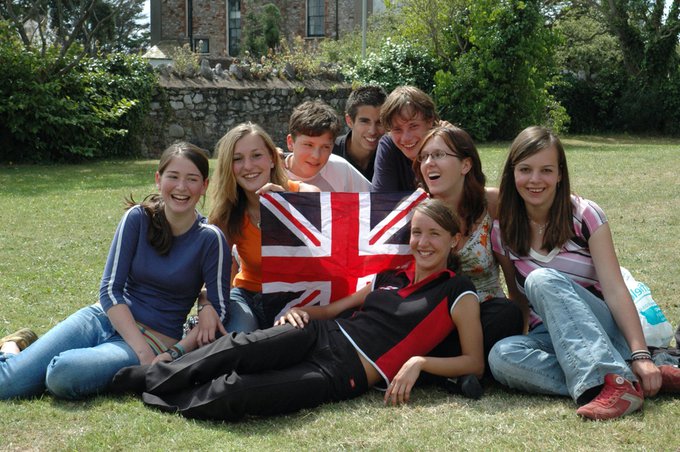 For many children who are advanced in English living outside the UK, a new stage for immersion in English culture and language is a trip to a summer camp, where local children, that is, native Englishmen, go. This can be especially useful for those who plan to start studying at an English boarding school in the foreseeable future. Visiting a language camp or English courses is certainly a useful and exciting event, but after two or three holidays spent there, active and talented children are urgently demanding new adventures for themselves!
Active recreation on the lake shore, teenage romance, fun gatherings around the campfire… Almost every one of us has a similar idea about summer camps for children and youth based on books and films. But, the traditions of summer camps for the youngest in England  they are as strong as university or school ones. Changeable English weather, fairly short school holidays and long parental leave-all this contributed to the reluctance on the part of adults to send their child on vacation without accompanying parents or relatives.
But, everything is changing, and England is no exception – today the field of summer leisure for children is actively developing. The best camps fill up quickly, applications must be made long before the start of the season.
1. Camp Kernow
Camp Kernow Park Farm, Truro
Ideal for future ecologists and those who are passionate about environmental protection.
This is the only British summer camp of its kind that does not use classically obtained electricity. On the territory of the camp, solar energy and biomass energy are used, children live in tents, yurts and wigwams, learn to independently extract and cook food. The camp is spread out on 280 acres of the most beautiful forests of Cornwall.
Classes are surprisingly diverse: from learning rock climbing techniques to kayaking, orienteering, walking to bat habitats, kayaking and archery. There are chances to try traditional crafts – woodworking and forging with a local blacksmith.
The gathering of young campers usually takes place in London, but many parents personally take their children to the camp, and then go to the eco-camp for adults – the luxury Scarlet Hotel on the Atlantic coast.
Suitable for children from 7 to 15 years old; 5-day accommodation – 420 pounds or 6-day camp – 510 pounds.
2. PGL Surrey
Marchants Hill Tilford Rd, Hindhead.
For children with multidirectional hobbies.
PGL is an abbreviation of the English phrase "parents are lost". One of the most popular classic week-long multidisciplinary camps. Here, a young man will experience all the charm of life outside the framework of his parents ' home: an exciting mix of dancing, photography, sports, quad biking and much more. Twelve centers in the UK including Marchants Hill in Surrey. There are programs for three, four and seven nights.
Suitable for children from 7 to 17 years old; 7 nights from £ 469.
3. The Outward Bound Trust
Aberdovey Gwynedd, Surrey.
It is aimed at travel lovers.
The places chosen for adventure trips are so beautiful that they will make even parents envy. The rest can be called truly adventurous. There is an option of week-long hikes in picturesque places and 19-day hikes along the most amazing routes. Your little "Fedya Konyukhov" during the trip will spend the day hiking in the amazing, unknown mass tourist areas of Wales and Scotland, and the night under the stars by the campfire with interesting interlocutors and new friends.
Suitable for children from 11 to 19 years old (depending on the age, different hikes in intensity); prices range from £ 549 for one week of camp to £ 1699 for a 19-day trip.
4. Firetech
St Johns School Epsom Rd, Leatherhead.
Ideal for those who are passionate about technology.
Thanks to the hours allocated for training as part of the entertainment program, young fans of technological progress can gain knowledge about programming in Python and Java, robotics, digital photography, virtual reality, video game design and much more.
At the Fire Tech courses, the emphasis is on making children take their first steps from technology consumers to their creators. Students draw information from experienced teachers from leading universities in the UK, including Cambridge and Imperial College. This type of recreation is available at the day camp at St. John's School in Leatherhead, as well as at camps with accommodation at Wycombe Abbey, Ardingly College and Lansing College.
Day camps accept children from 9 to 17 years old, camps with accommodation-from 12 to 17 years old; prices from £ 300 to £ 1300.
5. Camp Wilderness
Hatfield Woods Mangrove Lane, Hertford.
It is aimed at fans of tent camps.
Safari-style tent camps, where the only source of lighting and heating is a self – made fire. And the opportunity to have a roof over your head in the forest is directly related to the construction of huts. Plus, barbecues on an open fire, rafting on rivers, garbage collection in the forests in order to clean up, cricket games are just some of the activities that are held within the framework of a two, three or five – day camp. There are also tent camps near Oxfordshire, Hertfordshire and Kent.
Suitable for children from 7 to 15 years old; 3 days - £ 249; 5 days - £ 415.
6. XUK
Abberley Hall School, Worcester.
Ideal for thrill-seekers.
The camp has existed for 20 years and today it is visited by more than 170 guests a week. XUK is based in a multidisciplinary center at New Eccles Hall School in Norfolk. Activities held here include scuba diving and quad biking, trips to theme parks and musicals in London. There is even a car driving training!
This camp is popular among foreign children. This year, XUK is opening a specialized camp in Wales with courses in art, sports, water and forest adventures, photography and cinema.
Age from 6 to 17 years, cost £ 650 per week.
7. Camp Cooper
Ardvreck School, Crieff, Glasgow.
It is suitable for those who want to plunge into the atmosphere of a traditional American camp.
The founders of Camp Cooper spent 10 years in a summer camp in Massachusetts in their childhood and youth, and now they have transferred all the traditional elements of the United States to Scotland: songs in the dining room, evening gatherings around campfires with intimate conversations and chants, competitions in military training, construction of huts and shelters from the weather. And the main goal of all these events is to create friendly relations between children and acquire basic life skills. Most choose a two-week accommodation option. The placement of 8-10 children of the same age and gender in rooms also contributes to the establishment of a friendly atmosphere and strong ties in the future.
Various leisure activities are available on the territory – sports games and outdoor competitions, art, music, mountain biking, tennis, film production, journalism, dancing, drama club, as well as many evening special events.
Suitable for children from 7 to 17 years old; cost £ 750 per week; the camp is open from July 1 to August 24.
8. Wickedly Wonderful
West Wittering, West Wittering.
It is aimed at beach lovers.
A tent camp on the shore is the dream of any active child. Here the camper is waiting for all possible sea sports, pony riding, crab hunting, building sand castles and much more. The camp is distinguished by very tasty lunches and dinners in the fresh sea air. And, what is quite important for adherents of a healthy diet, except for fried marshmallows (traditional mashmelos, where without it) and chocolate-covered bananas by the fire, any other sweets are prohibited. Carbonated drinks and smartphones are also declared persona non grata in the camp.
Groups are formed of 12 people, taking into account the age and previously established friendly relations. Every week, only 30-50 people rest at the camp.
Suitable for children from 6 to 13 years old; £ 545 for 4 nights (Monday-Friday).
9. Cambridge School for Visual and Performing Arts
Kett House Station Road, Cambridge
For children who are interested in art.
The Cambridge School of Visual and Performing Arts (CSVPA) is known worldwide for its courses in various areas of art. At their base, they offer educational summer camps with a focus on painting, film production, fashion, theater or music.
The summer course of theater and musical Art is especially popular. The courses include about 35 hours of classes with professionals, as well as additional evening excursions and activities.
Suitable for teenagers from 15 to 18 years old; prices start from £ 1,175 for a one-week stay.
10. Wellington Riding School
Wellington riding, Heckfield
For children who are fond of equestrian sports.
Is your child crazy about horses? In this case, the Wellington Riding School will be an ideal option for a summer holiday. Each child is provided with his own horse for the period of a five-day stay. At the end of the week, competitions are held for all children of the race, including warm-up and performance, departure to musical accompaniment, show jumping, cross-country race (depending on weather conditions) and competitions.
In the evening, trips to the cinema, karaoke and board games are organized.
It is aimed at children from 7 to 16 years old; £ 925 (7-12 years old), £ 980 (13-16 years old); the cost of additional days and weekends is discussed additionally.
11. Centre Stage Summer School
Hopefield Avenue, Belfast.
For those who are fond of theatrical art.
For more than thirty years, this Irish drama school has been hosting aspiring theater fans in the stunning setting of Glens Antrim. The beautiful old Kilmore House is the base for a week-long holiday with an active course of musical theater, poetry, pantomime, film production, improvisation, singing and dancing.
All teachers are show business professionals. Rehearsals for the final Saturday show often last until late at night. The camp is based a few miles from the nearest village, there is no TV, Wi-Fi access, mobile phones and tablets on the territory.
The school meets the children at the Belfast airport, and on the way to the camp base there is a tour of the filming locations of the epoch-making "Game of Thrones".
Suitable for children from 8 to 18 years old, cost £ 525 per week.
12. Learn and Experience
Newton-Le-Willows Aysgarth school, Bedale.
Ideal for active children.
The Learn and Experience Summer Camp offers a huge variety of activities – exciting water fighting championships, bonfire nights, detective investigations of mysterious murders and stunning themed evenings. And all this against the backdrop of the magnificent Yorkshire countryside. This camp is often chosen by foreign children for recreation during the summer holidays. Therefore, the English guys here have a great chance to make international friends and join the culture and traditions of other countries.
Suitable for children from 8 to 14 years old; cost £ 595 per week.
13. Uppingham Summer School
Uppingham School High Street, Uppingham
Suitable for those who are passionate about sports.
In this camp there are classes in both music and creativity, but it is the sports direction that has become the most popular among children planning to start a sports career in England. Exciting group games and sports events are held in order to develop imagination, ingenuity, the ability to quickly make the right decisions and stimulate the acquisition of skills in a particular sport. On the territory there is an opportunity for classes, football, hockey (on grass), netball, athletics and much more.
It is aimed at children 6-8 years old; £ 460 per week (with accommodation) £ 240 (without accommodation).
14. Mill on the Brue
Trendle Farm Tower Hill, Bruton
It is suitable for those who want to acquire and develop life skills.
Here, the main focus is on forming a team and solving problems in the group. Children learn to work in a close-knit team, find a common language, listen to the opinion of their peers, and also defend their own position. For example, they discuss such questions as how to build a raft, or solve a multi-stage logical puzzle. Arrivals vary from one to four weeks.
Suitable for children from 8 to 15 years old; cost £ 599 per week.
15. First Hand Experiences
Shoreham.
For children who are interested in agriculture and growing plants.
Unity with nature here occurs through the care of the land, the cultivation of agricultural products, and in the future, harvesting and cooking healthy dishes from the fruits of joint labor. Children learn to appreciate nature and the earth, take care of it, take care of it and thank us for the benefits that it provides us. One of the main goals of such a holiday is to explain to children that environmentally friendly food products can be grown with their own hands with health benefits and pride in the result.
Cooking crumbly sweet potatoes over a fire, creating a fragrant pesto sauce with your own hands-all this happens after active work in the garden. The camp is based on the territory of the popular residential complex Quadrangle Trust in Shorem. The stay time is from two to seven nights.
Suitable for children from 7 to 14 years old; cost £ 549 for 6 nights.
16. Met Film Making Camp
Rugby School, Lawrence Sheriff Street, Rugby
For those who are passionate about film production and everything related to this craft.
Children get access to a modern multimedia center to try their hand at directing and the process of editing and creating a film. Writing and working out a scene, working with a camera, video editing and directing skills are just some of the skills that are taught in this camp by experienced professionals in this field.
Along with the technical side of the program, there are many social events for future Spielbergs, including movie evenings and creative workshops.
The camp is aimed at children aged 14-17; £ 2,500 for 2 weeks.
17. Barracudas
Known in the UK for their fun summer camps, Barracudas offer multi-purpose day camps that maximize learning, adventure and entertainment during the summer holidays for children and teenagers. Their Ofsted-registered camps are designed for children from 4 ½ to 14 years old. With more than 25 years of experience in the camp, Barracudas has a team of experts and employees to ensure that your children are in safe hands.
Registration is simple and clear. They offer about 80 daily classes that include various skill development courses to meet your child's interests, including things like dance fusion, lab rats, swimming school, motor skills and stems. Barracudas values the personal development of the child, conducting safe, fun and high-quality children's camps.
You will need to fill out the basic information form before the child goes to the camp, and then pass any specific information to the coordinator of the children's group. They have a basic room at the beginning of the year, created specifically for the youngest camp participants aged 4 to 5 years. A schedule with lots of funny pictures will help them decide what they like to do during the day. There is a fruit shop in Barracudas that encourages healthy eating, numeracy and independence. Children can bring a small amount of money to visit the fruit shop.
18. International Football Camp
For more than 20 years, Soccer Camps International has been offering some of the most popular soccer camps in Europe. They offer elite international youth summer soccer / soccer camps in England, Spain, Italy, France and Portugal.
In England, there are football camps Liverpool FC, Great Britain, Arsenal Football Development (London), Chelsea FC Foundation Soccer Schools (London), Manchester City Football Performance and the International Football Academy of the West Ham United Foundation (London).
You can visit these camps in all parts of England, from Manchester to Southern England, to Central England and London. Accommodation, meals, excursions and much more are included in the price of the camp. Classes are available for boys and girls from 8 to 17 years old, as well as classes for the goalkeeper. There are classes in residential and day camps, as well as options for English as a second language (ESL).
Airport transfer is available for all camps if you want to send your child yourself, so the camp staff will take care of him / her upon arrival and departure at the airport. Secure online registration is available for all camps.
19. Activate camps
Activate Camps is one of the leading providers of active and inspiring sports and multidisciplinary childcare camps in the UK for children aged 5 to 14 years. Activate Camps manages more than 150 camps annually. They include multifunctional camps and sports courses, such as Netball Fever, Hockey Masterclass, Freestyle Soccer Camps, START! Neil Wilson Gymnastics and the Cricket Academy. Most of their sports camps are attended by stars, current or former professional players.
Child care camps offer various other recreational activities to meet the needs of each child in the camp. Over the past 16 years, more than 135,000 children have attended Easter, summer and October camps. They are actively working to create better conditions for a day camp. Activate Camps is a great place to send your children on school holidays.
They are committed to the safety of all their children, employees and parents. They are registered with Ofsted and have experienced and qualified coaches with knowledge of their chosen sport and child care. The camps have personnel trained by the International Institute of Risk and Security Management. Activate Camps also includes proactive management over the past three years.
20. Crusoe Camp
Camp Crusoe is an independent American-style family summer camp for children from 8 to 15 years old, located in the beautiful British countryside.
Camp Crusoe, which focuses on fun, strengthening team spirit and personal development, is the perfect place for children to relax in a friendly and safe environment and find new friends away from the online world.
Camp Crusoe is located in the stunning 16th-century Nettlecombe Court, Somerset, a vast private estate located between Exmoor National Park and the Quantock Hills, where vacationers can play games, enjoy adventures or relax with new friends.
Vacationers spend their time enjoying all kinds of activities, such as kayaking, SUP-surfing, ropes, handicrafts, orienteering, drama, cooking or archery, as well as various sports, outdoor games, needlework, singing and stories around the campfire. .
Former army officer Jeremy and summer camp veteran Joe lead a team of fully trained and vetted personnel, including a nurse, a catering crew, and camp counselors. They have many years of experience in caring for children and organizing summer camps, and they are looking forward to welcoming your children to Camp Crusoe!