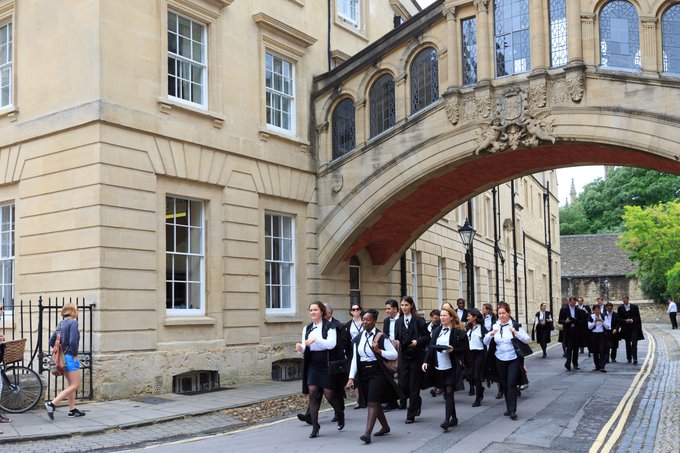 Basic requirements
The presence of a 12-year secondary education, the age is not younger than 17.5 years, the level of language knowledge is not lower than IELTS UKVI5.5-6.5 points.
Depending on the training course, the requirements may vary. The standard qualification requirements are as follows
 Certificates of passing three A-Level exams and four GCSE exams with a minimum grade of C. In addition, entrance documents are submitted through a centralized system UCAS and must be issued in accordance with the requirements of this organization, those. assessments must be transferred to the British system (grades in the UK are issued ina literal expression from A to U). UCAS starts accepting applications on September 1, and finishes in mid-December (to Oxford or Cambridge until October 15).

 If you have a international diploma of graduation from a higher educational institution, then you can apply for the second and penultimate course of the university, and for a postgraduate course for a master's degree with a similar diploma.
How is the enrollment process going?
    Consideration of documents to universities in England takes place on a competitive basis. The higher the rating of the university you are applying to, the stricter the requirements for applicants will be. Some universities conduct additional interviews with applicants in order to find out how you suit them. At the same time, information about academic performance, recommendations, justification of the purpose of admission, existing experience in admission to master's programs and MBA, academic or scientific achievements (diplomas, participation in olympiads, competitions, scientific research), social portrait of the applicant (participation in public life) are taken into account. , sports, groups and circles, hobbies, etc.). There are many obstacles on the way to entering a British university. Almost everything can be solved if you start the process of selecting programs and preparing documents in a year or two. It is very important to remember that HEIs are as different as students, which means that they are looking for different things in future students. Therefore, documents must be submitted to several universities at the same time. For one of them, you will definitely be the perfect candidate.
 Deadlines for submission of documents
 Each UK university sets its own deadlines for submission of documents. The deadline for submission of documents depends on the chosen educational institution and on the specific specialty, and for prestigious (highly competitive) specialties, the deadline for submitting documents is earlier (to Oxford and Cambridge - about 11 months before the start of the course). List of documents required for admission:
 For school graduates
⦁ Certificate of English proficiency or a copy of the recent IELTS certificate;
⦁ Extract of grades from school and later Certificate translated into English
For university students
⦁ Certificate of English proficiency or a copy of the recent IELTS certificate;
⦁ Extract from the transcript, certified and translated into English
For persons with higher education
⦁ Higher education diploma;
⦁ Diploma Supplement;
⦁ Two recommendations from the university, for MBA programs - professional recommendations3;
⦁ CV;
⦁ IELTS test results