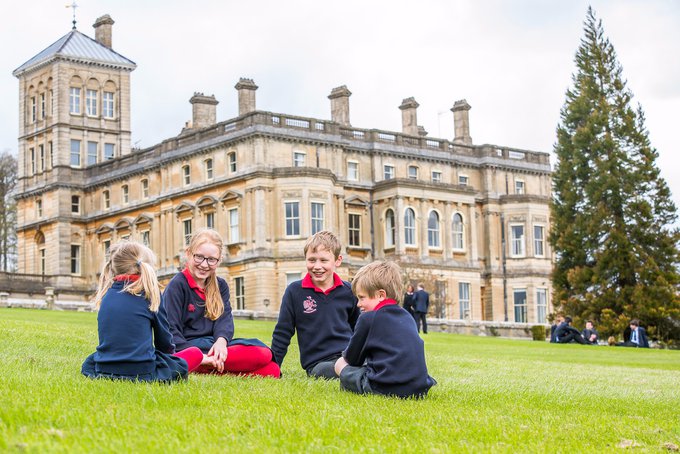 When choosing an English school, do you pay attention to its rating? We explain why to do this and publish the TOP 20 language schools from the British Council rating.
Every year, the inspectors of the British Council make lists of the best English schools, carefully evaluating them according to 15 criteria. The assessment is subject to academic performance, school experience, classroom equipment, teaching staff, teaching materials, conducting lessons, extracurricular entertainment.
The evaluation criteria are becoming more complicated every year, but the list of schools that have received accreditation is still growing. The reason is the high competition in the educational services market. The British Council publishes lists of requirements, and each school struggles to meet these criteria. And a few decades ago, the situation was different.
1. Abingdon School is located in the city of the same name in the Oxford district on an area of about 15 hectares. The history of the school covers a time period of more than 750 years. Today, 11-18-year-old boys study here for GCSE and A-level. 
The academic success of the pupils eloquently testifies to the high rating positions of the school and the level of the educational institution as a whole. More than 80% of boys are awarded the highest grades (A+ and A). 99% of graduates continue their further education at universities; one in five goes to Oxford or Cambridge.
Oxford is ten minutes away by car, the road to London takes one hour. Students of Abingdon often travel as part of school groups in England, go on excursions to other countries.
Almost nine hundred boys study at Abingdon School, not counting the pupils of the Preparatory School. The teaching staff is selected at the rate of one teacher per eleven students. Thus, each child receives enough attention during lessons and during free hours. The head teacher changes every year; each class has its own head. Any boy can turn to the commandant or his assistant at his boarding school for support and advice.
According to the GCSE program, most boys study ten subjects. In high school, the training is aimed at preparing for admission to the university (AS and A-level). For a more complete development, students are recommended to include science and art in the list of subjects studied. Early specialization is not an end in itself of studying here. Teachers are of the opinion that children should try their hand in different directions, develop their abilities as much as possible and find the best use for them.
In a boarding school for boys, they teach such disciplines:
english,

mathematics,

IT,

chemistry,

physics,

biology,

history,

geography,

design and technology,

economics, political

science,

second foreign language (French, German, Spanish), ancient

Greek and Latin,

religious teachings (the school adheres to the Anglican faith),

physical education,

music and dramatic art,

painting.
2.ACS Cobham International School is an international co-educational school located in Cobham, a suburb of London.
The school was founded in 1975. The educational institution belongs to the group of American schools (ACS), represented by three schools in Britain and one in Qatar. The educational institution covers an area of 128 acres and includes 4 departments: preschool (from 2 to 6 years), junior school (from 6 to 10 years), middle school (from 10 to 14 years) and high school (from 14 to 18 years).
The school offers non-religious education, providing both full-time education and accommodation on the territory on the terms of full or partial boarding for students aged 12-18. The majority of students are Americans, but more than 50 different nationalities are represented at the school, so students have a unique opportunity to get acquainted with representatives of different cultures and learn to understand and respect them.
ACS Cobham School offers two main programs of study: IB (International Baccalaureate) and the American system of education, including AP (Advanced Placement courses).
Graduates of the school can choose between obtaining a standard American-style diploma of high school graduation, an International Diploma of Advanced Difficulty Program (APID) or an IB diploma. The school philosophy is based on the "principle of three C": Caring, Culture, Community (care, culture, community).
Teachers strive to create a safe environment in an educational institution based on excellent human relationships, teach students caring in the broadest sense of the word, open the world of Anglo-American culture for them, instilling respect for the cultural traditions of other countries.
ACS Cobham sports facilities are the envy of the best schools in Europe: rugby and hockey fields, an all-weather track, softball and baseball fields, tennis courts and a six-hole golf course. The complex sports center includes basketball and volleyball courts of international size with a springy beech floor and a multi-level grandstand for 280 spectators, a 25-meter competition-class swimming pool with a movable floor, a grandstand for 178 people, an Omega photo finish system, electronic scoreboards and clocks, a cafe for 50 people. The school's sports facilities have been approved as a training camp for the 2012 Olympic Games, and also regularly host British and international competitions in various sports.
There is a dormitory for 110 people on the territory of ACS Cobham International School (66 boys and 44 girls can live in different wings of the building). Students are located in double rooms with a bathroom. The bedrooms have beds, built-in wardrobes, bedside tables, dressing tables, desks, lamps, telephones, wireless Internet (the network is disconnected at night).
On the upper floor there are two-level bedrooms, allowing children to organize their own space in the room. Each wing has comfortable halls with color TVs and DVD players and mini-kitchens. Bed linen is changed centrally, students can use a self-service laundry to wash their personal belongings.
3.Ardingly College is a prestigious co-educational boarding school with an excellent reputation and a first-class sports and educational infrastructure. The school was founded in 1858 by C. N. Woodard and has occupied its current territory since 1870.
The school is located in the south-east of England, in West Sussex, a 40-minute drive from London. Heathrow and Gatwick International Airports are 63 and 14 km away, respectively.
The territory and buildings of Ardingly College are perfectly equipped for both training and various extracurricular activities. The spacious classrooms are equipped with interactive whiteboards, audio equipment, televisions and DVD players.
Classes in chemistry and physics are held in specially equipped classrooms. Ardingly College students also have a special library with permanent free Internet access, music classes, studios for art and design classes.
The school also has an indoor heated swimming pool, 18 tennis courts, an indoor sports center for basketball, football and badminton, outdoor playgrounds for football, volleyball, and team games.
Participants of the drama club can demonstrate their performances in a special School Theater. A disco hall is open on weekends.
Recreational activities: Ardingly College maintains close ties with nearby schools, so during the semester students are given the opportunity to meet their peers during study trips.
Expeditions to countries such as the Gambia, Kenya and India, cultural trips to Paris and Florence, language exchanges with Spain, Germany and France are organized on an ongoing basis.
The rooms in the residence of the Ardingly College school are furnished in such a way that students can feel comfortable and at home. The distribution in the residence is carried out depending on the year of study and the gender of the student. 80% of students live in single and double rooms, 20% in triple and quadruple rooms. Each dormitory is designed for about 40 people, with the exception of the residence for high school students. Each residence has a head, a team of mentors, and medical staff assigned to it.
In their free time, students have access to common rest rooms, a computer class with Internet access, a kitchen where they can prepare their own food.
Junior school (7-13 years old)
The primary school curriculum at Ardingly College is based on a national standard recognized by many years of experience in secondary education. In addition to the compulsory subjects-English, mathematics, science, computer science, the curriculum also includes elective subjects: history, geography, French, design and technology, music, fine arts, dramatic art, games, physical education and swimming. At the end of junior school, students take a comprehensive exam to move to the senior level of education.
High school (13-18 years old)
In high school, in the 10-11 years of study, students pass the GCSE program, at the end of which they pass exams and receive a certificate of secondary education. The list of required subjects at Ardingly College includes: English, English literature, mathematics and one of the natural sciences (biology, physics or chemistry). In addition, students also study the basics of life safety, philosophy and physical culture. Elective subjects: art, history of civilizations, technology and design (graphic design), technology and design (product design), theater arts, French, Geography, German, History, Latin, music, physical education, fundamentals of religion, Spanish.
Sixth Form (6th form — 16-18 years old)
In the 12-13 years of study, Ardingly College offers senior students training in the A-level and International Baccalaureate program. The Pre-IB program is available on the basis of the school for international students who begin their education abroad after graduating from high school in their country. In the A-level program, students usually study 3 main subjects to choose from, but in the first year of study, you can study four or five subjects, and in the second year of study, you can choose three or four subjects.
4.Ashbourne College is one of the best London private co-educational colleges for Sixth Form students. It was founded in 1981 by the current director, Mr. Mike Kirby. At that time, the college specialized in mathematics, natural sciences and economics. Today, it provides students with the opportunity to choose from 35 subjects at A-level, including humanities, social sciences and creativity.
Ashbourne is based on a two-year A-level educational program, although the college also has a small (but constantly growing) GCSE department, founded in the early 1990s.
Both college buildings are located 100 meters from Kensington Palace (the official residence of Prince William) and close to a number of cultural attractions of the British capital. Hyde Park, Imperial College London, the Natural History Museum, the Victoria and Albert Museum and the Albert Hall Concert Hall are nearby. This is a safe, clean, quiet and extremely beautiful area of business London.
About 50 % of Ashbourne College students are foreign students from 30 countries, the remaining 50% are English, mostly Londoners.
The administration consistently implements the Oxbridge system of organizing the educational process, chosen at the opening of the college: small classes (7-10 people), a large number of academic hours, flexibility, academic rigor and maximum attention to each student. Moreover, according to such indicators as individual attention, student support and interaction with teachers, Ashbourne strives to be the best college in London.
Ashbourne combines an informal approach and an adult attitude to education with a disciplinary system, thanks to which the work of each student is carefully monitored. The undoubted advantage of the educational institution can also be considered that a number of teachers have been working here for more than 10 years.
Teachers do not try to make assumptions about the previous level of training of students, but persistently, step by step, achieve full mastering of the studied material. In conditions of low occupancy of classes, teachers can give and check much more homework. This approach is especially important for those students who immediately enter the A2 level or an intensive one-year A-level course.
The college has a friendly atmosphere. Students do not wear school uniforms and call teachers by name. A student at Ashbourne wants to study, does it independently and responsibly, and knows that there are people nearby who are always ready to help.
The educational institution has an ideal balance between the freedom of high school students and the need to follow the best academic traditions. Numerous reviews of graduates indicate that while studying at Ashbourne, they experienced happiness. And this is what teachers consider their most important achievement. According to the Inspection of Independent Schools in 2010, Ashbourne "provides an outstanding quality of education".
The college is located in a prestigious area of London — Kensington, 4.5 kilometers from Charing Cross, 20 kilometers from Heathrow airport.
The educational system in Ashbourne is unique in its own way. Firstly, it provides an almost unlimited choice (more than 30 items). Secondly, it allows you to get a narrow specialization: there are no subjects required for studying at A-level, there is also no module system adopted in a number of other educational institutions.
Moreover, a student entering Ashbourne can be sure that even if he turns out to be the only student in the class in the chosen subject, the teacher will read the course for him alone with a mandatory exam at the end. The student can cancel the course chosen earlier (but not later than 2 months before the start of classes at AS).
The undoubted advantage of the college is the opportunity to retake their exams (AS level) in order to improve the grade. For this purpose, special hours are allocated in the curriculum, individual consultations are given and trial exams are organized twice a trimester.
Ashbourne focuses mainly on preparing for university admission. Therefore, only students with a high level of English proficiency are accepted to the college. For foreign students who have sufficient conversational skills, but need to improve the language, additional classes on the subject "English as a foreign language"are organized twice a week.
The college has developed special programs for preparing students for medical universities, as well as for Oxbridge.
More than 25% of graduates go to the best universities in the UK, including University College London, Imperial College London, the London School of Economics and Political Science, the London College of Fashion, Oxford and Cambridge.
5.Bede's Preparatory School-Bede's Primary School, founded more than 100 years ago — is one of the largest and most famous primary schools in the county of Sussex for boys and girls aged 2 to 13 years. Foreigners whose parents live outside the United Kingdom are accepted at Bede's only from the age of 7 years.
The nature of Sussex is distinguished by its extraordinary beauty. The school has a view of the English Channel. Here your child can not only perfectly prepare for high school, but also enjoy the beauty of English landscapes.
Music, Theater Arts and Dance: Bede's Prep School students can study music, theater arts and dance. Children become connoisseurs of the English language and literature, learn to speak beautifully, develop their voices, they become team members. Theater art as a subject is included in the schedule of each student.
In addition, there are several theater circles at the school. Children can learn to play an instrument during individual lessons with a teacher, sing in a choir, play in an orchestra.
From the age of 11, children can attend classes at the professional dance school — Legat Professional Dance, which is located on the territory of the Bid High School. If they have talent, then the lessons will be held three times a week. The course includes all dance disciplines: from classical ballet to modern dance.
The school encourages children to play sports. Success on the sports fields leads to success in other areas as well. Sports develop team spirit, determination and patience in children. The school is known for its excellent sports equipment.
On the territory of the school there is a sports hall, playing fields with a view of the English Channel, tennis courts, an indoor swimming pool (the swimming team trains in a large pool at Bid high school). The school participates in regional and national competitions. Students of the school receive titles and awards.
Classes in clubs and sections are an opportunity to make friends from another age group. The lessons are held in a relaxing atmosphere. Every child will find a hobby to their liking.
You can choose from the following sections and circles:
art, rock

climbing, cricket

academy,

dancing,

design,

"young soldiers", aircraft

modeling,

pottery,

swimming,

tennis.
Also, girls and boys can practice horse riding on the territory of the Bida High School.
Some boys and girls show aptitude for academic subjects,while others show excellent results during sports. In addition, the school has many clubs and sections that children attend in their free time.
More than 400 children are educated at Bede's Preparatory School. Boys and girls are happy to study here, as the school has a lively homely atmosphere. The school staff is attentive to the needs of children. Teachers and directors of dormitories are always ready to listen and help them.
There is a medical center on the territory of the school, where a nurse is on duty around the clock. The food prepared by the school's chefs is delicious and healthy. The guys always have time for games and socializing with friends.
After graduating from elementary school, most of the students of Bede's Preparatory school go to Bede's Senior School-St. Bede's High School.
6.Bede's Senior School is included in the list of the most popular and prestigious boarding schools in England. The educational institution was founded in 1978 in the center of the county of Sussex, near the resort town of Eastbourne.
The school is located on an area of 80 acres, containing, in addition to modern academic buildings, residences for the residence of pupils, stables, playing fields, utility rooms, a dining room and other facilities.
A separate pride of the school's management is the sports sector of training. On the territory there is a sports center with squash, golf, polo, tennis courts, an indoor swimming pool, fitness rooms, stables are arranged in some distance.
Students are required to receive at least one sports activity per week in their schedule. Those who wish can study both for their own pleasure and development, and to achieve certain results: Bede's Senior School staff consists of professional coaches and instructors, and students of the educational institution often participate not only in local, but also in national competitions.
Students can improve their skills and practice football, hockey, basketball, tennis, cricket, netball, rugby, swimming, squash, athletics, golf and cross-country running.
Considerable attention is paid to the creative part, art training. For example, weekly music lessons are mandatory for all students. If the pupil wants to develop his creative potential, Bede's Senior School offers him individual music lessons, whether it is playing a musical instrument or vocal lessons in a local choir. Often, famous musicians visit the school for conducting a master class — the apotheosis of the day is a joint performance on the school stage. The most talented students annually participate in the famous concerts of Winchester and Chichester Cathedrals, in addition, they often train abroad.
The constant pride of the school is the professional dance training system-LPGC. Students of the course receive skills in all dance disciplines: from classical ballet to Latin American dances.
In order to develop the aesthetic taste of the pupils, the school has several studios of fine arts, as well as studios of photography, ceramics and graphic design. Classes do not have a clear schedule, so children can do their favorite thing at any free time, including on weekends. The most successful works are regularly shown at exhibitions outside the school.
Much attention is paid to the professional orientation of pupils. There are about 35 different circles and sections on the territory of the school: literary, technical, design, and the like. Students are free to choose their own classes that interest them, there is no rigid plan.
A special feature of the organization of training at Bede's Senior School is the conduct of field classes: for example, in the geography course, a visit to the island of Arran is provided, history involves visiting the sites of the greatest battles on the territory of continental Europe, art classes will delight students with a trip to Mexico.
In addition, schoolchildren regularly visit the University of Sussex, the BBC studio, English farms, the capital's theaters, dive to the bottom of the Red Sea.
The final years of study are characterized by a relatively small number of subjects studied — on average, only 4 disciplines. Students choose subjects based on their interests, abilities and plans for their future career.
Students can choose an A-level course in the following disciplines: financial Accounting, Art and Design, Biology, Business, Pottery, Chemistry, Programming, Design and Technology, Economics, English as a foreign language, English Literature, advanced mathematics, geography, government and politics, history, information Technology (IT), Latin / Ancient Greek, Mathematics, media, foreign languages, music, Philosophy and Ethics, Photography, Physical Education, Physics, theater arts. Bede's School also offers BTEC courses: animal care, business and management, cooking, musical performance, music technology, film production, sports.
At the last stage of training, the number of subjects is completely reduced to three. There is also a differentiation: gifted students can study disciplines at the advanced A-level level, others stop at the average-GCSE.
For students who are dissatisfied with their performance, there is an opportunity to retake exams. After receiving certificates, students can submit documents to six higher educational institutions, enrollment in which is made according to their graduation results.
7. Bellerbys College is one of the leading colleges where students study on the GCSE program, as well as Sixth Form (A-level and Foundation) high school programs.
The college is based on three campuses, each of which specializes in preparing students in different areas: in Brighton (multidisciplinary training), Cambridge (exact sciences and medicine) and London (law, business and finance).
Each of them trains both English and students from all over the world, who show high results in A-level exams from year to year, and then enter the leading universities in the UK.
Bellerbys Brighton is a modern interpretation of a classical boarding school, where the needs and interests of international students are above all, and the main task is to reveal their individuality and potential.
The college offers a wide range of subjects and study programs that will serve as an excellent basis for entering the university and building a future career. Expert teaching combined with intensive educational programs, excellent equipment and a friendly atmosphere make Bellerbys Brighton an ideal place to study.
Bellerbys Brighton is the most multidisciplinary and accepts students from the age of 13, offering a GCSE program, where there is an opportunity to study subjects of interest to the child. The students are under the constant supervision of teachers and staff of the college.
The heads of the residence are engaged in organizing leisure activities in the evenings and on weekends, creating a homely atmosphere of comfort, which has a positive effect on the academic performance of children.
In the Pre-GCSE program, students, even with a low level of language, are given the opportunity to study academic subjects and prepare for further admission to the GCSE course.
In addition to 5-10 subjects of English, each student must study mathematics, as well as 4 more academic subjects to choose from. At the end of this preparatory course, the student can automatically transfer to the main GCSE program. The level of training of students is traditionally high for this college, thanks to an experienced teaching staff, the latest educational materials, as well as an effective teacher/student ratio.
Another main task of the college is the future admission of students to the strongest higher education institutions in the UK. Due to this, the level of preparation for the 6th Form program in all Bellerbys colleges is very high. Classes are held in small groups, which allows each student to express themselves, show their capabilities and demonstrate such important and necessary qualities for British education as leadership, activity and independence.
The A-level program opens the way to the best universities in the UK. At Bellerbys Brighton, you can enroll immediately at A-level (from 15.5 years), choosing from a wide list of subjects, or continue your studies after passing GCSE.
The training is carried out in areas related to business and entrepreneurship, including accounting, business administration, economics, management and politics, psychology, law. In this program, students study four, and in the second year of study three academic subjects and prepare for admission to the university.
The college also has a special program created for international students-1 year of GCSE, the passage of which allows you to gain the necessary knowledge and experience for further admission to A-level programs. The level of training of students is traditionally high for this college, thanks to an experienced teaching staff, the latest educational materials, as well as an effective teacher/student ratio.
Also, international students can take the Foundation program, which is created on the basis of the A-level course. This course provides excellent training necessary for successful study at the university and future career. The program is accredited by Lancaster University, which is one of the TOP 20 universities in the UK.
It is possible to study in 8 different specializations, depending on the college:
Art and Design

Business, Finance and Management

Engineering technologies

Humanities

Right

Computer technologies and management

MASS MEDIA

Exact sciences and pharmacology

Bellerbys Brighton is a leading center for training specialists in the specialty Management & Computer Systems Foundation.
In addition, to improve the level of English, the college conducts an intensive English course — ELPP.
The college has a lot of extracurricular and additional classes, sections, circles, for the comprehensive development of students.
8.Bishop's Stortford College is located in a picturesque area of the county of Hertfordshire, near the highway connecting London and Cambridge, 40 kilometers north of London. The school is located on a hill separating the city from the countryside.
Bishop's Stortford was founded in 1868, it is one of the most prestigious and respectable colleges with excellent academic performance and reputation. 10% of students go to Oxford or Cambridge every year. In total, 800 people study at the school, 340 of them are high school students. There are more than twice as many boys in school as girls. Only about 20 international students study at Bishop's Stortford.
The school occupies a picturesque territory of 40 hectares. Previously, this school was only for boys, about 20 years ago girls began to be accepted into high school, and a few years ago the school became completely mixed.
The centerpiece of the school is the impressive Memorial Hall, built in 1921. Recently, the laboratory for chemistry, art, design and information technologies, as well as sports facilities have been restored and a new center for high school students has been built.
On the territory of the school there is a large sports complex, a swimming pool, a gym, playgrounds, tennis courts. The school offers classes in water sports, sailing, athletics, but special attention is paid to rugby, field hockey, cricket and swimming.
There are many interest clubs in the college, the most popular of them are a drama club, music, photography, a journalism club, where children write articles for the school newspaper and magazine, English history, computer science, art: drawing, studying ancient literature, sports clubs: golf and squash.
The school is proud of the high quality of training in sports games.
Bishop's Stortford adheres to the national curriculum of the British education system. Simultaneously with academic subjects, students study ethics and art. Regular homework and term papers provide for independent study in the library, computer center and audio laboratory.
The academic structure of the college covers all possible areas of science and art, both intended for compulsory study and for classes on interests: art (painting, sculpture, ceramics, graphic design, photography, fashion, animation and cinema), biology, chemistry, design, geography, history, English, French, information technology, Latin, mathematics, music, physics, physical education, psychology, drama, etc.
9.Bloxham School is a small co-educational school of the Woodard group, located in the ancient village of Bloxham, first mentioned in written sources from the XI century.
The educational institution is located on the territory of the Cotswold Nature Reserve, called the "heart of England", since it is here that not only the pristine nature and architecture have been preserved, but also the very spirit of England of the XVII-XVIII centuries: picturesque hills, limestone houses of amber-honey color and the "sacred" beech forest.
The school was founded in 1860 by the English educator and priest Philip Reginald Egerton for the sons of middle-class representatives: clerks, small landowners, farmers. On the territory of 60 acres there is a main building built in the Neo-Gothic style, an Anglican chapel that can accommodate up to 200 people, 5 dormitories, as well as sports fields, playing fields and much more.
Among the famous Bloxam graduates are priests, doctors, artists, writers, a member of the British Parliament and a minister of the government of Zimbabwe, the governor of the province in Sudan, Viscount Hawarden and Formula 3 racer William Bratt, a leading BBC political columnist John Serjeant and the Deputy Supreme Commander of the united NATO Armed Forces in Europe, General Sir Edward Burgess.
Bloxham School is located in the village of Bloxham, 5 kilometers from the city of Banbury, 40 minutes from Oxford, 1.5 hours by car from London.
Subjects for 7-9 years of study: English, mathematics (two groups depending on the level of students), natural sciences (chemistry, physics, biology), French, history, geography, design and technology, music, fundamentals of religion, physical training, Spanish (in the 9th year of study).
Subjects for years 10-11 of study: the main focus is on preparing for the GCSE exam. Mandatory subjects for studying are English language and literature, mathematics, biology, chemistry, physics, the basics of religion, physical education.
Subjects for 12-13 years of study (Sixth Form): to enter the Sixth Form, it is formally necessary to have 3 grades " B "and three grades" C " on the IGCSE exams. In practice, all Blokham students entering the Sixth Form have 8-10 grades at least "B", at least in those subjects that they plan to study at A-level. A mandatory requirement is a mark of at least " B " in English and mathematics. Children with lower academic performance can be accepted for training in only in exceptional cases, followed by retaking exams.
Bloxham School students receive serious training in the main subjects of the national educational program (mathematics, English, natural sciences), and also have the opportunity to master aesthetic disciplines (art and design, drama, music).
10. Box Hill School is located in south-west London on its own extensive green territory. The school is located outside the city, thus ensuring the silence and safety of students, while maintaining an excellent connection with the capital.
Heathrow Airport can be reached in 40 minutes by car, and the very center of London can be reached in an hour. Students of the school do not experience difficulties with trips to other cities, because the school is located in an area with a well-established transport system in all directions.
Box Hill School was founded in 1959, the academic building was located in an old building with a century and a half history. Over time, the school's territory has expanded and improved, and now it unites 6 residences, a separate building of the music school and senior classes.
The school's curriculum is based on the national educational system, but offering a much broader course in each subject. Students ' knowledge is tested by exams at the end of each year of study. Lessons lasting 55 minutes. they are drawn up in a ten-day schedule and alternate alternately every other week.
11. The Express English College with modern decor has a library, a cafeteria, a cinema room, a computer room and a garden that students can use throughout the day. The school has a number of well-known courses, such as the business course, which focuses on the language used in the business environment, as well as a part-time and full-time IELTS exam preparation course for those who want to prepare for the exam. The school pays great attention to quality and devotes its time to ensuring that students reach their full potential during their stay at Express English College. Along with excellent teaching methods and classroom facilities, students can participate in social activities outside of the classroom to practice their English. The lunch club, conversation club, and film club are all internal events that students can join daily to meet with like-minded people. The school also organizes trips, free of charge or for a small fee, so that you can explore everything that this wonderful northern city has to offer.
12. The Brighton School was founded in 1845 by William Aldwin Soames. English inspection commissions highly evaluate this school, taking into account its academic performance, the interest of teachers and the effectiveness of their work, the care of the school staff about the children, a diverse program of extracurricular activities and the level of knowledge in general.
The teachers of the Brighton school strive to ensure that the children not only improve their knowledge, but also develop their thinking. Their goal is not only to control the performance of tasks, but also to make efforts to develop the spiritual, moral, social, cultural and physical education of children.
The training takes place in a lively and dynamic form. The school program meets the national standards of education, and also offers a more in-depth study of the exact sciences. The study of additional foreign languages is welcome.
The school accepts international students for full board from the age of 13 (Year 9).
Subjects for the 9th year of study (13 years)
At this stage of training, the main emphasis is on the development of knowledge, skills and abilities that students will need when preparing for GCSE in years 10 and 11: English language and English literature, mathematics, natural sciences (chemistry, physics, biology), French and Spanish, art, Chinese, technology design, information technology, geography, history, fundamentals of religion, music, physical training. The children also have the opportunity to study Latin or any other foreign language. After Christmas, students need to make a choice of subjects that they will study for 2 years in preparation for GCSE.
Subjects for 10-11 years of study.
For children aged 14-16, the main focus is on preparing for GCSE. For two years, we have been preparing for this exam to obtain a certificate of secondary education. 6 subjects are required for studying: English language, English literature, mathematics, natural sciences (chemistry, physics, biology). Also, students should choose 3 more subjects based on their preferences: art, technology design, theater, music, information technology, geography, history, fundamentals of religion, physical training, French, Spanish, Latin, Greek or Chinese.
Subjects for 12-13 years of study (Sixth Form).
Upon reaching the age of 16, compulsory secondary education ends, after that, for those children who want to continue their studies in higher educational institutions, they continue their studies under the A-level program.
School uniforms are mandatory until the 6th grade, high school students can choose their own clothes, but in accordance with the requirements of the school. The discipline is quite strict — if the homework is not completed, the student receives a "yellow card" with the signature of the director. For smoking, using drugs and alcohol, they are expelled from school.
Also, a special center for 100 children suffering from the disease "dyslexia"has been opened at Brighton College. Most of the children achieve significant success in learning.
13.Nacel English School London provides local and international students with general English courses, Cambridge exam preparation courses, individual classes, professional English courses, teacher training courses and internships for European students. Students can be offered high-quality accommodation options for families living near the school or in local student dormitories.
14. The boarding school Bromsgrove School is a prestigious educational institution located in the center of England, in the town of Bromsgrove. Historically, it was formed in a slightly different place, but 300 years ago, the administrators of the college decided to move the campus to the vicinity of Birmingham and Stratford-upon-Avon, the birthplace of the great William Shakespeare.
From the capital of the United Kingdom, the school can be reached in two hours by car. The status of the educational institution is confirmed by membership in the" Conference of School Directors " — an organization that unites 200 schools for boys and mixed secondary education institutions. Bromsgrove School plays a leading role in this organization.
According to the national curriculum, students attend 8 lessons daily. Along with general academic disciplines, students study art and ethics, as well as develop in various sections and circles.
Bromsgrove School prepares its students to continue their studies at the best universities in the country, encouraging independent work on their own knowledge, stimulating this process with a variety of homework. To complete the tasks set, students can fully use the capabilities of the equipped computer center, library and audio laboratory.
The full cycle of study at Bromsgrove School is 13 years.
In years 3-8, students study the general cycle of sciences without specialization: history, chemistry, physics, biology, geography, mathematics, design and technology, English, French, German and Spanish, Latin, music, physical training, information technology, art.
The 9th year of study will strengthen students ' knowledge in mathematics, physics, biology, chemistry, English, French, German and Spanish, music, the basics of religion, theater, Latin, geography, information technology, design, history, and continuing physical training will make the body match the spirit and intellect.
At the 10th and 11th years, it is time to prepare for the exam for obtaining a certificate of full general education — GCSE. Mathematics, a foreign language, English, the main cycle of natural sciences — physics, biology, chemistry, the basics of religion, English literature are studied in a mandatory manner. 3 elective subjects are added to the named list: German or Spanish, business basics, art, history of civilizations, theater art, geography, graphics and production, information technology, history.
For those who want to take an accelerated course of preparation for the upper grades, the school offers an intensive one-year course of 1 Year GCSE, equivalent to year 11 of study. It gives you the opportunity to continue studying immediately at the IB or A-level at the end.
The final stage of training — years 12 and 13-involves the choice of students between the standard International Baccalaureate program and the complicated A-level course.
15. The first St. Giles College was opened in 1955 in London. Since then, the number of branches of the college around the world has increased to 6, and 10,000 students from 100 countries study there every year. The school specializes in intensive and basic courses of English, English for Business, preparation for international exams in English, etc. St. Giles also offers language courses for children from 8 to 18 years old in 9 children's language camps in three countries of the world, based on university campuses or on the basis of boarding schools.
For parents who would like to learn English with their children in London, Cambridge or Brighton, St. Giles offers a summer vacation course "Family English". The course is designed for children and their parents or relatives who want to learn the language in the morning, and after lunch to walk around the city and explore its many attractions. A maximum of two adult family members per child can participate in this program. The age of children is from 5 to 15 years in London, from 7 to 15 years in Brighton.
In London, adult classes are held at the year-round London Central School, located in a luxurious old building within walking distance of the British Museum and the famous Covent Garden. There are several parks near the school, such as the Royal Park, where students relax during breaks. This is the best option for those who want to study and live in the heart of London. Classes for children are held in the building of the London Mathematical Society, just a few minutes ' walk from the school for adults.
In Brighton, the adult school is located in the heart of the city, next to the Royal Pavilion, built specifically for the Prince of Wales at the end of the 18th century in the architectural style of the Indian Mughal dynasty, and a 5-minute walk from the sea and beaches. Children study in the Brighton Jubilee Library building, a 5-minute walk from the adult school. The center is designed for 55 children.
In addition to classes, the school offers three afternoon activities for participants of this program every week (Tuesday-Thursday), as well as one full-day excursion on Saturdays (London, Eastbourne, Hastings, Chichester). 
Training programs
Training program: On the first day, students take an oral and written test in order to get into the group corresponding to their level.  
The standard course consists of 20 English lessons of 50 minutes per week, aimed at developing communication skills in English, with an emphasis on grammar, vocabulary of spoken and literary language.
There are 3 types of programs to choose from:
Full package-the program includes training, a program of excursions and events, family accommodation in a double room. The family provides breakfast every day, packed lunch on weekdays.

Day package plus-the program is designed for families who organize their own accommodation, and includes training, a program of excursions and activities, as well as lunch at school.

Day package only - unlike the previous program, lunch is not included in the price. Only training and a program of events and excursions.
An adult family member can also choose a program without training, accommodation can be arranged either in a family offered by the school, or independently. At the same time, the adult participates together with the child in activities and excursions. Platinum packages are also available for adults:
Group Business Executive lessons Full package: the program includes training (business English lessons for managers in groups of no more than 5 people), a program of excursions and events, family accommodation in a double room. The family provides breakfast every day, packed lunch on weekdays.  
1-to-1 Business Executive lessons Full package: the program includes training (individual business English lessons for managers), a program of excursions and events, family accommodation in a double room. The family provides breakfast every day, packed lunch on weekdays. 
Number of students in the class: maximum of 12 for adults and 15 for children. At Platinum courses-no more than 5 people in a group. 
Duration of one lesson: 50 minutes.
The level of language proficiency at admission: from elementary to advanced (adults from scratch are accepted only from 05.07.21 and 02.08.21 in Brighton, from 28.06.21 and 26.07.21 in London).
Accommodation/Food
Accommodation: Family, accommodation in a 2-bed room. The school can also arrange accommodation in an apartment or a hotel.
Food: In the family-breakfast, packed lunch on weekdays, apartments-without meals. For an additional fee, half-board meals can be ordered in the family.
Excursions and leisure
Excursion and entertainment program: In their free time, children and parents have the opportunity to enjoy the sights of London or Brighton and their surroundings on their own, as well as take advantage of the entertainment and excursion program offered by the school. Among the activities are visits to museums, theaters, the London Zoo, an amusement park, bowling, an excursion to the set of Harry Potter and much more. All programs include 3 afternoon activities (Tuesday, Wednesday, Thursday) and a full-day excursion (Saturday).
Dates of the program. London: from June 20 to August 15, 2021. Brighton: from June 20 to August 15, 2021
16.Buckswood is an independent day and boarding school for boys and girls aged 10-19. Among them there are both full-time students and full-board students living on campus. The institution was founded in 1933 near the town of Crawley.
The school belongs to the Buckswood Overseas Schools group, which also includes other institutions in Britain and educational institutions in Nigeria and Georgia.
Buckswood describes itself as "a very British school with a very global outlook". Here, traditions are respectfully observed, great importance is attached to the upbringing of good manners and classical education with mandatory reading, language skills and developed oral and written speech. At the same time, half of the students come from different countries of the world, and tolerance and respect for cultural diversity are an integral part of school life. Its motto reads: "We are preparing for life."
Buckswood School is located in the village of Guestling, between the cities of Ashford (Kent) and Hastings (East Sussex), 1.5 hours by train from London.
17. Twin School
A modern spacious school with a swimming pool and a huge library just 20 minutes from the center of London. In the UK, the quarantine is 10 days on arrival, you can add 10 days of stay with a family with full meals to the quarantine for 200 pounds after booking the course.
For those who want to study English in London, there is no need to look for something more than the Twin English Centre London. The school offers students everything they might need: modernly equipped classrooms, a comfortable learning environment, excellent transport links to central London and a wide range of courses that have been created to meet the needs of international students.
The Twin English Center London has 20 bright, modern, air-conditioned classrooms, spacious lounge areas for communicating with other students, as well as self-study classes where you can access computers. The entire school has free Wi-Fi and a library with thousands of books. 
18.Cambridge School of Visual & Performing Arts (CSVPA) is a private school of fine and theatrical arts of mixed education, specializing in preparing students for admission to creative universities.
CSVPA was founded in 1985 as the Cambridge School of Art and Design. Later, with the advent of programs in theater and musical art, it received its modern name.
Over the past 30 years, the range of courses taught has significantly expanded: today, you can not only master the pre-university training program, but also get a bachelor's degree or prepare for admission to a master's degree.
CSVPA is open seven days a week, twelve hours a day, providing an ultra-modern learning environment and an individual workspace for each student. It offers small classes (no more than 15 people), assistance in preparing a portfolio, weekly individual classes, highly professional preparation for listening.
CSVPA is located in the heart of Cambridge, opposite the building of the Cambridge Union Society — the world's oldest discussion club owned by the University of Cambridge. Students of the school can often be found here among the students of the legendary university.
Cambridge is a beautiful, friendly city with a rich history, known as a center of learning for more than 800 years. It boasts more living Nobel Prize laureates than any other city in the world.
The convenient location of the school allows you to recruit highly qualified teachers, many of whom have graduated from the most prestigious British universities themselves. Cambridge is just a 45-minute drive from London.
19. Churchill House Ramsgate is one of the leading schools, part of the Churchill House of English Language group, founded in 1971.
Thanks to the high academic standards, accommodation conditions and organized recreation programs, the summer children's camp entered the top five throughout Europe.
The school is located in a cozy and attractive seaside area of Ramsgate, Kent. The welcoming resort town is part of the island of Tanet and is distinguished by its rich history, which is represented in its wonderful architecture and museums. A great place to study and relax, in a calm and friendly atmosphere.
The main building is located a 10-minute walk from the city center. There are wonderful beaches, a picturesque marina and a promenade nearby.
The campus is filled with buildings dating back to 1814. Despite the complete modernization of the premises, they have retained the charm of the Victorian era.
Modern infrastructure:
Well-equipped classrooms;

Self-training Center;

Game zones;

Internet cafe;

Computer classes.
The main advantages of Churchill House Ramsgate:
The Center is a member of the international organizations Quality English, Education UK, English UK;

Accredited by the British Council;

An excellent location that promotes effective learning in England;

Rich and high-quality classes with professional teachers specializing in spoken English;

Huge opportunities for extracurricular activities;

The possibility of taking the Trinity Exam.
20. The English Language Stake in London Burlington was opened in 1990, and since then it has been organizing English language courses annually and admits students from all over the world. The curriculum uses a communicative approach to learning English, which helps students to live, work and study in a modern global environment.
Study at the English Language School in London Burlington English Language School in London Study English in the UK in Burlington London
The main objectives of the school are to provide high-quality English courses that meet the needs of all students, a pleasant international experience in London and mutual understanding between students from different countries, cultures and social strata, as well as to give students the necessary skills for further learning and development.
Students will study in a traditional English building in Balham, one of the most attractive residential areas of London, known for its cafes, parks and gardens. The school is within walking distance of three beautiful parks and 15 minutes from central London.
Study English in London at the Burlington language school Study at the Burlington school England Study English in England Burlington London
The Burlington School creates an environment in which the individual differences and contributions of all students, staff, subcontractors and other representatives of the school are recognized and appreciated.
Burlington provides quality English language courses that meet the needs of every student.