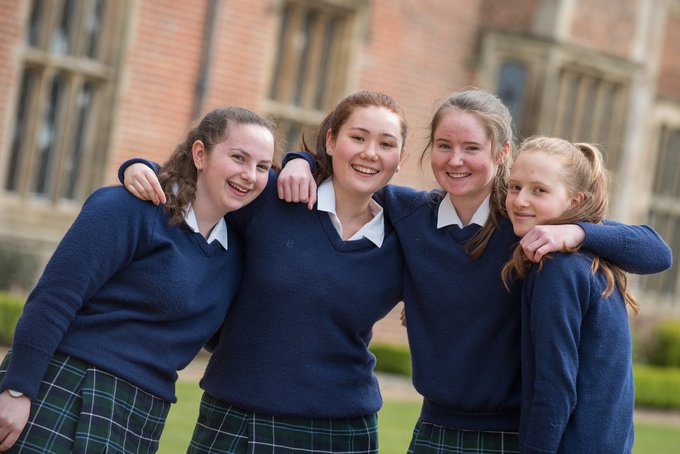 A boarding school in the UK with separate education is rightfully considered one of the most elite educational options and an excellent base for the formation of a free, self-confident modern woman.
Schools for girls began to appear in England much later than schools for boys, which for several centuries set high educational standards for the whole of Europe. Based on the principles of upbringing, education and traditions that successfully developed in the 19th century, English boarding schools for girls were founded.
Today, these schools can be found in the top lines of all prestigious ratings without exception. Graduates demonstrate excellent academic achievements, excellent manners, an active life position and with enviable ease enter the best universities in England for technical specialties, which is considered a somewhat more difficult task for the fair sex than the humanitarian direction.
Among those who have spent many years within the walls of British girls' schools are such prominent people as Margaret Thatcher (Prime Minister of Great Britain), Madeleine Albright and Condoleezza Rice (US Secretaries of State), Golda Meyer (Prime Minister of Israel.)
Studying in England is an excellent gift of fate (and, of course, the merit of parents) for a future lady, regardless of the field of activity that she will be engaged in in the future.
Benefits of girls' schools in England
Girls are not distracted to attract the attention of young men - this allows you to channel all your energy and time towards academic, athletic and creative achievements.
Girls have been proven to mature and mature earlier than boys. Accordingly, in a school for girls in classes, children are not only of the same age, but also of the same level of maturity. As a result, teachers place higher demands on composure, responsibility, discipline, good breeding and perseverance.
In an English school for girls, students are taught to carry out several projects in parallel, which is less typical for boys, whose focus on one specific task does not allow them to act and think wider. And girls can easily cope with several tasks at the same time.
In a separate school, students are more successful in non-humanitarian subjects that are traditionally considered "male": mathematics, physics, computer science, chemistry.
Girls are happy to go in for such English sports as football, sailing, tennis. They master carpentry and woodcarving. All this allows you to achieve success in different directions, fully develop and improve.
Young ladies are more responsible, attentive, assiduous, hardworking, prone to hard work - these features also make adjustments to the preparation of curricula and programs in British boarding schools for girls.
How to enroll in an English girls' school?
First, it is worth remembering that in most prestigious schools, applications for admission must be submitted well in advance of the start of training. Sometimes this should be done after a few years, but most often after 1-2 years. And the choice of school must be made at least 2-3 years before admission.
Admission procedures are generally the same as in other English schools. But, of course, you need to understand well the character, temperament, interests of the child before deciding on the choice of school. The segregated school is not suitable for all children.
Experienced UK education consultants strongly advise you to do some reconnaissance and try to get started with one of the girls' English school vacation programs.
Then, be sure to carefully read the conditions of admission, the requirements for the level of proficiency in English, and only then prepare all the documents for obtaining a British study visa.
Below are some of the best girls' schools in England.
Badminton School, Bristol
The school has been accepting pupils between the ages of 9 and 18 since 1858. Badminton School is one of the most prestigious boarding schools for girls in England. Study programs organically combine academic, creative, sports and leisure components. Girls are taught here not only good manners and sciences, but also the ability to analyze political events, critically reflect on various situations. In total, 42 hobby groups function on the school grounds. Graduates regularly enroll in leading English universities, including Cambridge and Oxford. www.badmintonschool.co.uk
Benenden School, Kent
The school was founded not so long ago by British standards, in 1923, but since then it has succeeded significantly. It is quite difficult to enter BENENDEN, the level of knowledge of students is really high. On the territory of the school, girls can realize themselves in science, theater, ballet, shooting, mountaineering. Graduates have excellent chances to enter the best universities in the world. The school is famous for the fact that the representative of the royal family, Princess Anne, studied here. www.benenden.school
Cheltenham Women's College, Cheltenham
Founded in 1853. The school grounds are surrounded by English gardens and historic architectural ensembles. Here they give excellent knowledge in physics and mathematics, develop the leadership qualities of students, but do not forget about the disclosure of their creative potential. College graduates are in no way inferior to students from the best English schools for boys. www.cheltladiescollege.org