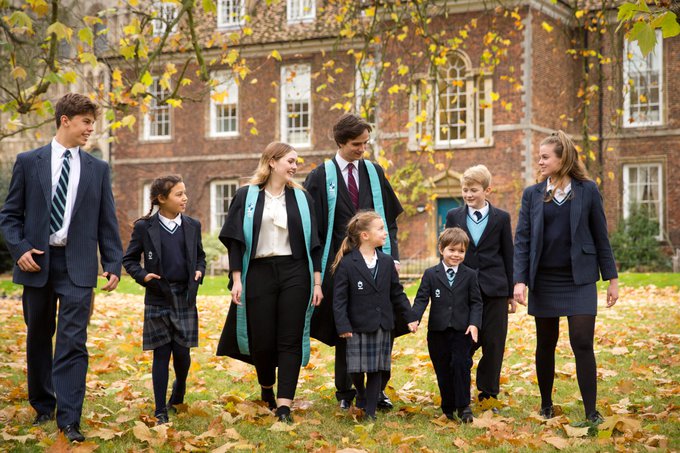 How to understand ratings
The ratings are compiled by specialized portals, the media and the Ministry of Education. The main ranking criterion is the results of final exams. They talk about the quality of academic preparation. Other indicators can also be taken into account - for example, graduates' career, technical equipment, number of subjects, level of teachers, and others.
One of the most popular sources is the British edition of The Times. Its ranking is based on exam results.
In this article, we will look at the ranking of schools with British (GCSE, A-Level) and international (IB) programs of study.
After graduating from high school, British students take the GCSE (General Certificate of Secondary Education) exams.
The secondary school curriculum ends with examinations at the "A" level. Highest score is A *, then A to E.
As an alternative to the traditional British curriculum, some schools offer an International Baccalaureate program. The maximum score for the exam is 45.
What You Need to Know About Ranked Schools
Please note that only schools that have applied and reported their results in the publication are included in the Times Ranking. Many schools don't do this, so they don't make the rankings. For example, in 2019, 75% of students at the private boarding school Moreton Hall School received the highest scores (A * - A) on the GCSE exam. This is a good result, but the school is not included in the rating. The position in the ranking affects the prestige of the school, and, consequently, the requirements for applicants. It is difficult to enroll in top educational institutions - the competition in them is 20-25 people per place, and preparation takes from 2 to 4 years. For kids wishing to go to high school, we have a dedicated study department, UK tutors and programs based on the curriculum of the best schools.
Top 5 private schools based on GCSE results:
St. Paul's Girls' School
Westminster School
Wycombe Abbey School
Guildford High School
St Paul's School
Top 5 Private Schools Based on A-Level Results:
Cardiff College Sixth Grade
School Routine
Concord College
Brighton College
St. Paul's Girls' School
Best Private Schools Based on IB Results:
School of Godolphin and Latimer
University School of North London
King's College School, Wimbledon
Cheltenham Women's College
Stephen Persian Foundation