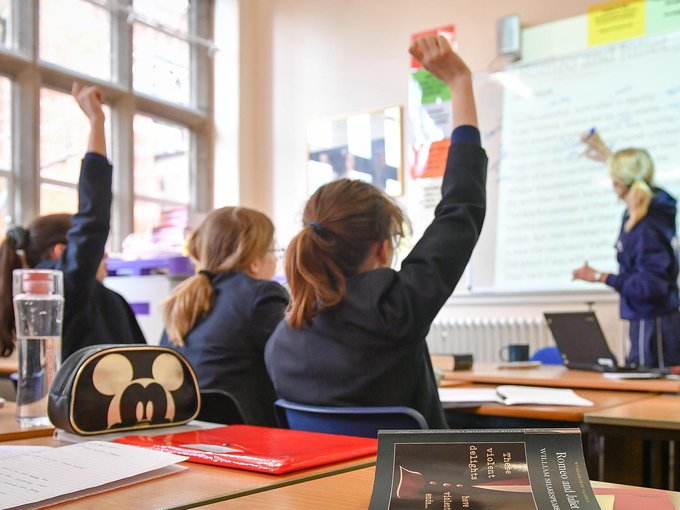 Secondary education in UK
The A-level exams are the key exams for British students — it is on their basis that universities make their enrollment decisions. The best schools in England are presented in descending order of the percentage of A* grades and, if there are no results for A* grades, the schools were ranked according to the results of A*-A (the higher the %, the better the results). Usually, the list does not include schools that scored less than 50% of A grades.
The general trend in 2019 was towards the deterioration of the results of the most important school exams. The difference in the percentage of A* and A*-A grades for such academically exemplary schools as St Paul's for Girls', Westminster, City of London for Girls, North London Collegiate School, Wycombe Abbey and others was from 5% and higher.
Nevertheless, I would like to note the schools that have improved their results compared to 2018. Of the public schools, these include — King's College London Maths School and Altrincham Grammar School for Girls. Among private schools, significant progress was made in the following schools — City of London School (for boys), Hampton School, Oxford High School GDST, The Godolphin and Latymer School, St Mary's School Ascot, South Hampstead High School, St Catherine's School, Ruthin School.
1.Oxford International College
53% of A * grades and 92% of A*/A grades
Private day school and boarding school for children aged 15-18, Oxford
2.St Paul's Girls' School
47.5% of A* grades and 84.6% of A*/A grades
2018 — 61.9% of A* grades and 90.2% of A*/A grades
Private day school for girls, 11-18 years old, London
3.King's College London Maths School
60% of A* grades, 91% of grades are A*/A. 100% of all A Level grades in mathematics were A or A* grades.
2018-58% of A* grades, 88% of A*/A grades
6th form Mixed State Day School, London
4.Cardiff Sixth Form College
89.88% of A*/A ratings
2018 — 88.5% of A*/A grades
6th form college for children aged 16-18, Cardiff, Wales 
5.Westminster School
83.5% of A*/A ratings
2018 — 57.5% of A* grades and 88.1% of A*/A grades
Private day and boarding school for boys from 7 to 18 years, with 6th form-co-educational, London
6.St Paul's School
More than 50% of A* grades, up to 80% of A*/A grades
2018-more than 51% of A* grades, 82.4 % of A*/A grades
Private day and boarding school for boys from 7 to 18 years, London
7.The Perse School
49% of A* grades and 80% of A*/A grades
2018 — 48% of A* grades and 83% of A*/A grades
Private Day School of Mixed Education, Cambridge
8.King's College School
47% of A* grades and 80% of A*/A grades; IB exams-average score of 41
2018 — 45.4% of A* grades and 78.6% of A*/A grades; IB exams-average score of 41.09
Private day school for boys from 7 to 18 years, with 6th form-co-educational, London
9.Haberdashers' Aske's Boys' School
45.4% of A* grades and 76.3% of A*/A grades
2018 — 43.2% of A* grades and 80.9% of A*/A grades
Private day school for boys from 7 to 18 years, London
10.Queen Elizabeth's School, Barnet
45% of A* grades and 86% of A*/A grades
2018 — 46.9% of A* grades and 84.7% of A*/A grades
State Day School for boys from 11 to 18 years, London
11.Concord College
84% of A*/A grades
2018 — 36.35% of A* grades and 81.11% of A*/A grades
Private International Day School and boarding school for children from 13 to 18 years, Shropshire, England
12.City of London School
47% of A* grades and 82% of A*/A grades
2018 — 33.86% of A* grades and 62.38% of A*/A grades
Private day School for boys aged 10-18, London
13.Hampton School
45% of A* grades and 79% of A*/A grades
2018 — 30% of A* grades and 68.4% of A*/A grades
Private day school (Primary school and Secondary) for boys aged 4-18 and girls aged 4-7, near London
14.Magdalen College School
44% of A* grades and 82% of A*/A grades
2018 — 46% of A* grades and 84% of A*/A grades
Private day school for boys from 7 to 18 years, with 6th form-co-educational, Oxford
15. Brighton College
44% of A* grades and 82% of A*/A grades
2018 — 41.3% of A* grades and 83.1% of A*/A grades
Private boarding school of mixed education for children from 11 -18 years, Brighton