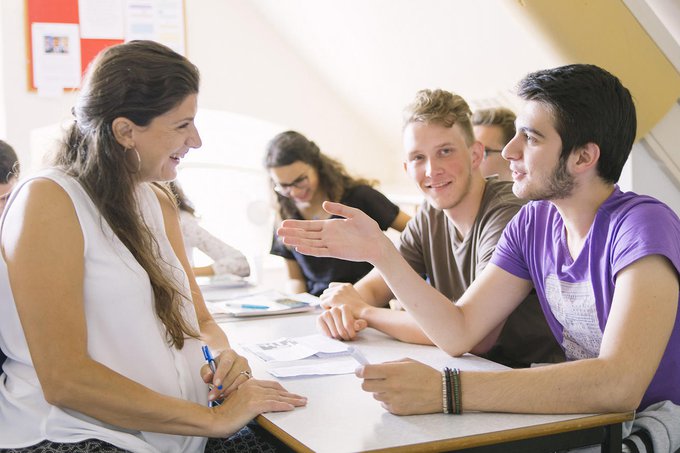 Benefits of Studying English in England
Studying English in England is the surest way to master the language of world communication. This path is chosen by those who want to master perfectly the classical English language. This is the first international language. It is here that negotiations are held between countries, they speak at UN meetings and international agreements are adopted. English is essential for diplomats, politicians, presidents, professors, students and all people whose activities are related to international communication. If you need to learn English for work or exams, choose English courses in England. In the language schools of this country, you can quickly learn vocabulary and grammar and express yourself fluently in pure English.
Studying English in England is also worth it because daily immersion in the language environment will give you invaluable hands-on experience. 
English is really spoken in England. Landing at the airport and passing through passport control, you will find yourself in a world where everyone speaks English, but no one (or almost no one) speaks other languages. And you will speak English all day long. Daily. The best way to remove the language barrier and speak out simply does not exist - the effectiveness of this practice is maximum. After a week or two, many even dream in the target language.
The British accent has been repeatedly voted the most attractive on the planet, according to a recent Time Out Global Survey (11,000 respondents from 24 countries). The ability to hear and imitate it is an added benefit for those attending adult courses in the UK.
English courses in England for all ages and levels
The British have been teaching English to foreigners since 1912 and offer a wide range of courses. In England, you can learn a language for work, for study, for your own pleasure, at any level from zero to fluent. For those who have very little time, an intensive English course is suitable, and if you have two or three weeks, you can devote time to excursions and acquaintance with the culture of the country.
Types of courses:
General English course from A1 to C2, 4 lessons a day (20 hours a week)
Intensive course, 6 lessons per day (30 hours per week))
Super intensive course, 10 lessons per day (50 hours per week)
One-to-one private lessons
Combined course (individual + group classes for maximum efficiency)
English for Business
English for the international exam (Trinity, IELTS, FCE, CAE, CPE)
English for Novice Teachers (TKT, TESOL)
English for Experienced teachers (Teacher's Refresher, CLIL, CELTA, DELTA)
English for Lawyers + ILEC exam
English for International aviation Pilots
English for Tourism and Hotel business
English for future studies (Academic English)
English for Finance + ICFE Exam
English + hobbies (cooking, photography, dancing, golf, etc.)
English in the teacher's family
Accommodation while studying language courses in England
For those who travel to England to study English, it will not be difficult to find a suitable accommodation option. Most schools offer accommodation with a family of native speakers who live in transport accessibility from the school or even nearby, then lessons can be walked.
Much in choosing a family depends on the staff of the language school. Some schools trust agencies to select families. In this case, you can expect the family to offer you a room and hot meals, but nothing more. Other schools run their own families and work with the same people over the years. A warm welcome and excellent language practice await you in these families.
Young people between the ages of 18 and 25 who are enrolled in English courses in the UK can choose to live in a hostel or "student house": their own room, shared kitchen, living room and bathroom. Senior students stay in an apartment or book a hotel if they want.
In addition, there are English courses for adults in England that provide full language immersion. This means you live and study in one place, practicing English 24/7.
The course "English in the Teacher's Family" makes it possible to achieve good results in a short time. You live with a teacher, learn English with him and spend your free time with him and his family.
The more expensive program is held on the territory of a private estate, where participants are accommodated in a historic mansion. Teachers and support staff also live there. The curriculum for these UK Adult English courses is specifically designed to make the most of your class time.
Cost of English courses in England:
General course
£ 150 - £ 250
Intensive course £ 300 - £ 420
Business English in a mini-group 500 - 700 £
Full immersion £ 1000 - £ 3000
The most expensive training option is adult courses in London. If you choose a school a few hours away from the British capital, the price of the course will be significantly lower.